We know it's been a busy summer, so at Hostify we have been working hard to bring our customers new tools and updates to help them enhance their vacation rental business. That's why we're excited to share with you our latest release. Hostify software is now available in Spanish!
Improving management experience
Have you been struggling to navigate for a platform that isn't in your mother tongue. We are sure that this update will revolutionize your management experience.
Our goal is to offer the best possible support to all our customers and we are getting closer and closer. This new Spanish version includes all the same features and content as the original English version. And it will allow our property managers and Spanish hosts to focus on more important tasks, instead of worrying about translations. Your teams can use it to easily view all the relevant details, their assignments, reports in progress and any important information or assigned tasks.
How to change the language in Hostify Software
By accessing the Hostify system you will be able to select the option to switch the language between English and Spanish. This will help to better adapt to the individual needs of each company and client.
Log in to your Hostify account (https://app.hostify.com/) and go to your profile in the main menu on the left.

2. Select "account" and you will be able to edit your profile settings. Then, click on language and select "Español". In order for the changes to be saved properly you will need to change your password as well.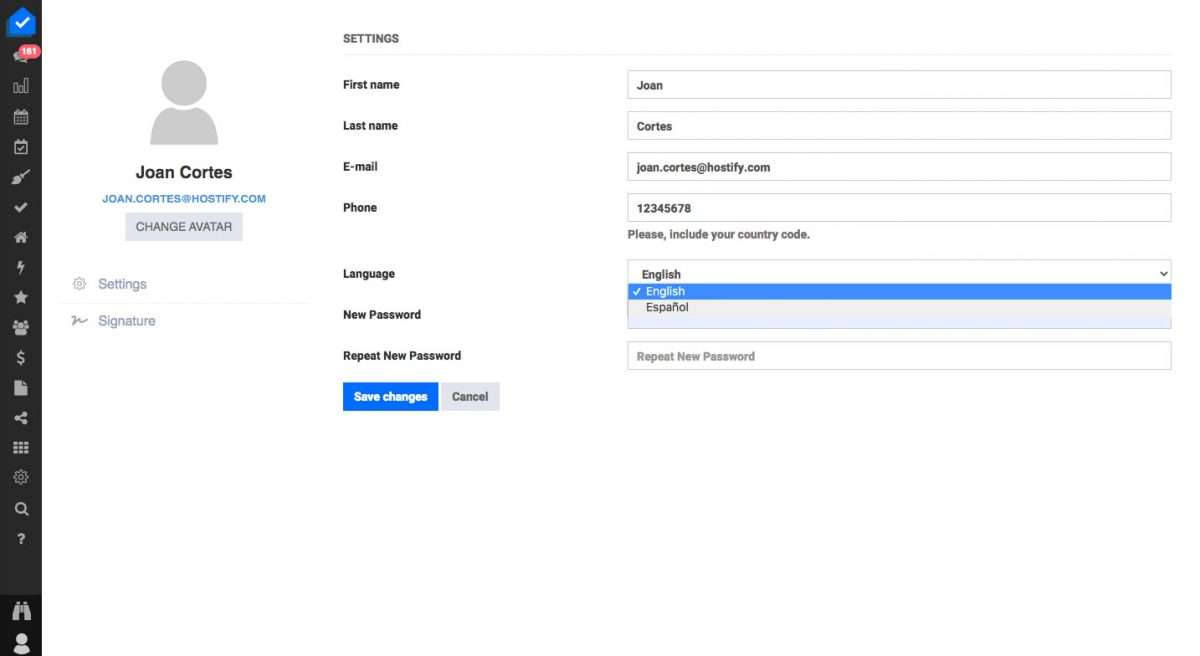 3. Save the changes and you will be ready to improve your management experience!
Going Global
At Hostify we are continuously reviewing the product and user feedback to improve the features of our software and help all our customers around the world to grow their business.
We also plan to add a new Portuguese version this year and will evaluate adding additional languages in the future. Learn more about our system at www.hostify.com