The popularity of the Vacation Rentals segment in Spain has surged in recent years. This can be attributed to the investment opportunities offered by the sector and the great benefits that can be obtained from it, the emergence of new apps and websites, and the increased appeal of short-term rentals that has continued to grow at an accelerated pace.
However, numerous property rental experts concur that a new cycle has commenced in the Spanish industry this 2023, which is closely tied to the macroeconomic conditions resulting from factors such as war, inflation, and the escalating expenses associated with living and financing.
In this article, we delve into the current state of the rental market in Spain, examining key aspects such as rental demand and supply, as well as exploring the most preferred types of rentals, including flats, apartments, houses, and luxury villas. Whether you are a prospective guest or a property owner, this article aims to provide valuable insights and guidance to navigate the Spanish rental market in 2023.
What is the current rental market in Spain?
The current rental market in Spain is experiencing a period of remarkable growth and transformation. This segment is projected to witness significant growth in revenue, reaching an estimated value of US$3.35 billion in 2023, as reported by Statista. This upward trend is expected to continue, with an annual growth rate (CAGR 2023-2027) of 1.66%, resulting in a market volume of approximately US$3.58 billion by 2027.
The number of users in this segment is also anticipated to rise, reaching 19.56 million users by 2027. Currently, user penetration stands at 41.5% in 2023, and it is predicted to increase slightly to 42.1% by 2027. The average revenue per user (ARPU) is projected to be around US$173.00.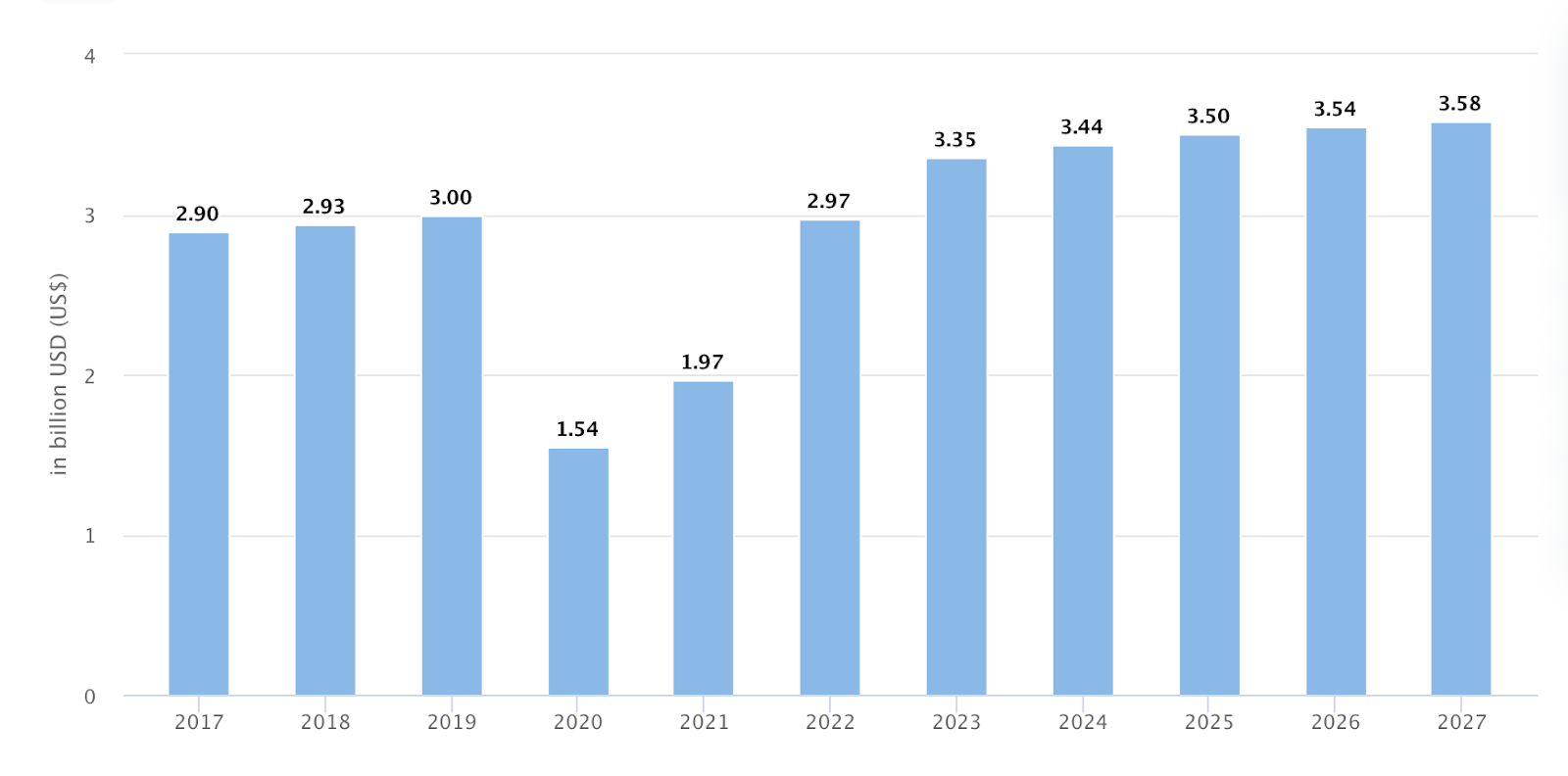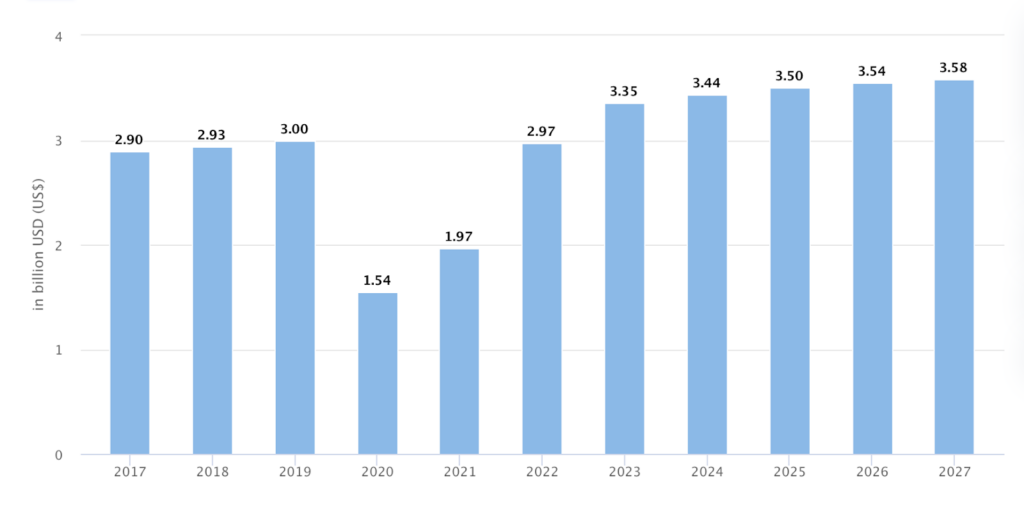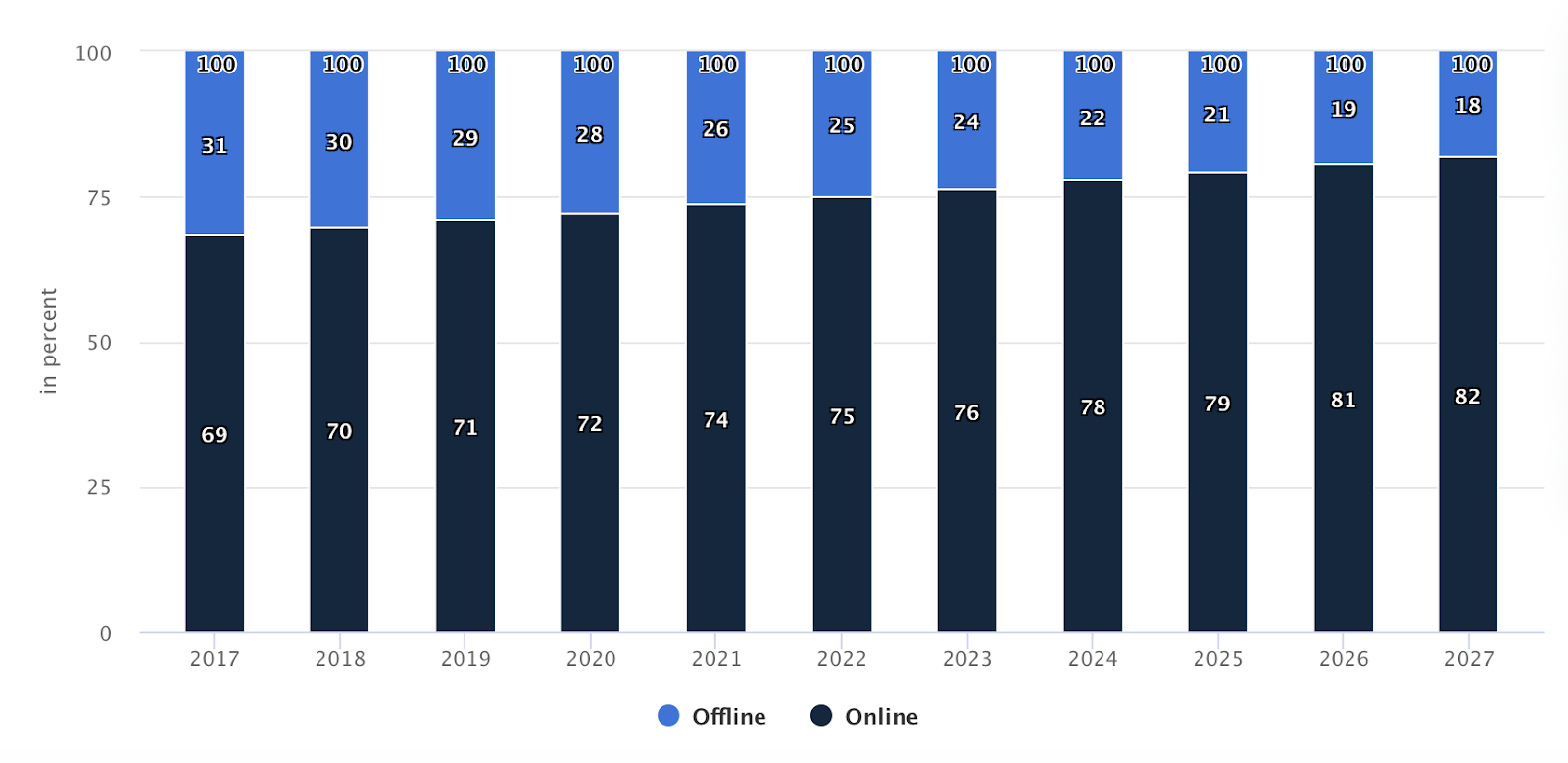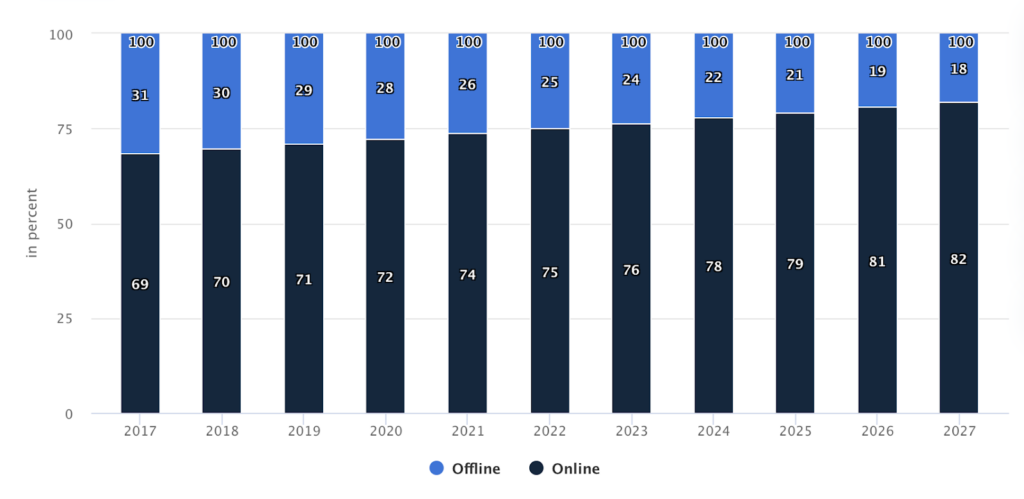 Rental demand
This summer of 2023 also points to much strength in Spanish tourism, which will have an impact on the purchase and rental prices of homes. Household holiday spending is holding up well in the face of rising prices and uncertainty, so this year bodes well for a positive outlook for tourism that will allow prices to be maintained. As for vacation rental prices, in view of the intense increase in domestic demand in the summer of 2021 and foreign demand in the summer of 2022, they have maintained an upward trend that is expected to continue in the coming months.
Rental supply
In 2023, the vacation rental supply in Spain will continue to increase, showing a thriving market for this type of accommodation. According to data from AirDNA, the number of active rental units in Spain has grown by 12.7% since 2022, reaching a total of 208,350 listings across the country. Madrid and Barcelona remain the most popular cities for vacation rentals, followed by Andalucia, Valencia, and the Balearic Islands.
This growth can be attributed to the rise of digital platforms such as Airbnb and Booking.com, the great investment possibilities that today's market has to offer, as well as an increasing number of travelers seeking alternative accommodation options beyond traditional hotels in Spain.
Overall, the vacation rental supply in Spain is robust and shows no signs of slowing down, providing a promising outlook for the tourism industry in the future. Property owners and management companies have recognized the value of offering unique and well-maintained accommodations. With a wide array of options available across the country, Spain remains a favored choice for travelers and investors.
What are the most preferred rentals?
Spain is a beautiful and intriguing country that attracts millions of visitors every year. With its stunning beaches, vibrant cities, and rich history, there is never a dull moment in Spain. For tourists who are looking for a more authentic experience, vacation rentals have become a popular accommodation option. With so many rental options available, it can be overwhelming to choose the right one. In this article, we will explore the most preferred vacation rentals in Spain, giving you an insight into what they offer and why they are so desirable.
Flat rentals
Flat rentals are among the most preferred vacation rentals in Spain. Many travelers prefer flats over other rental options because they offer a home-away-from-home experience that hotels cannot match. Flats in Spain are often spacious, fully furnished, and come equipped with all the necessary amenities. They give vacationers more privacy and comfort, making them ideal for long-term stays. They are available all over the country, from the heart of bustling cities to the quiet countryside. Flat rentals are perfect for families, couples, and also travelers looking for an affordable and comfortable vacation experience in Spain.
Apartments
Apartments are highly sought-after vacation rentals in Spain, and it's easy to see why. They are usually located in the most desirable areas, such as beachfront or city center locations, and are a popular choice for those who want to be close to the action. Apartments are also generally more affordable than hotels and offer a higher level of comfort and privacy. They come in different sizes, ranging from studios to multiple bedrooms, making them suitable for families, groups, or individual travelers. Whether you're looking for a short or long-term stay, apartments offer everything you need to enjoy your stay in Spain.
Houses
Houses are undoubtedly one of the most preferred vacation rentals in Spain, offering travelers a unique opportunity to experience the country's local way of living. These rentals are typically spacious and come with modern amenities, fully equipped kitchens, multiple bathrooms, and gardens. Houses in Spain are often located in the countryside, coastal areas, or quaint villages and towns, providing vacationers with breathtaking views and tranquility. They are perfect for large families or groups of friends who want to stay together in one place and enjoy time together in their own private space to ensures a comfortable and authentic experience that is sure to leave you with cherished memories.
Luxury Villas
Luxury villas are rising as one of the most sought-after vacation rentals across Spain. These villas offer premium amenities such as private swimming pools, Jacuzzis, cinemas, game rooms, and exclusive concierge services, security. Set in picturesque locations in Spain's countryside or coastline, luxury villas provide the ultimate vacation experience for those seeking privacy, comfort, and opulence. They often feature large expansive gardens and have ample indoor and outdoor space ideal for hosting large gatherings, family reunions, or events. Luxury villas are perfect for individuals who seek a lavish escape and an unforgettable stay in Spain.
How can Hostify help your Spanish rental properties?
Hostify software provides services that help rental property owners maximize their revenue by maintaining their properties to the highest standards and providing excellent customer service to guests. Hostify's services include optimizing reservations management, rental availability, handling guest communications, processing payments, and ensuring a smooth booking process to your guests. With Hostify managing your Spanish rental property, owners and property managers can enjoy worry-free management and an increased return on investment, while guests are guaranteed a comfortable and enjoyable. Our software is translated into Spanish which makes it more user-friendly for our Spanish-speaking customers, also, part of our team are Spanish speakers, so they will get support in their own language.
Don't wait any longer, book your free demo now and start boosting your company!