Short-term rental in UK has become increasingly popular in recent years, especially with the rise of online platforms such as Airbnb and Booking.com. It is an increasingly common form of business in the country, with more and more owners and investors opting for vacation rentals and deciding to put their properties on the market.
There are many advantages and economic benefits that a good management can bring, making it a very profitable way of obtaining revenue. Therefore, in this article, we explore the main characteristics of the market in this country, in addition to providing you with some tips that can help you boost your vacation rental business.
What is the current rental market in UK?
The short term rental in UK has seen steady growth in recent years, driven largely by the rise of digital platforms such as Airbnb, Booking.com, Vrbo, etc. as major players in the market and other new trends.
London remains the most popular destination for short-term rentals, followed by other cities such as Edinburgh, Manchester and Bristol, which have also seen an increase in demand.
However, the market has also faced criticism for its impact on the availability of long-term housing and the gentrification of some areas, which together with other factors such as changing customer needs and various regulatory changes or the pandemic, have had a significant impact on the sector, and have completely transformed it.
Rental demand
Due to the growing popularity of online booking and the preference for more flexible and customized accommodations, the demand for short-term vacation rentals in the UK has increased significantly in recent years. According to an IDC study presents the forecast data for the worldwide PC market, in which it was predicted that there would be an overall rise (+1.21 percent) in the number of users in the vacation rentals sector. In 2027, there will reportedly be 16.67 million users, according to estimates.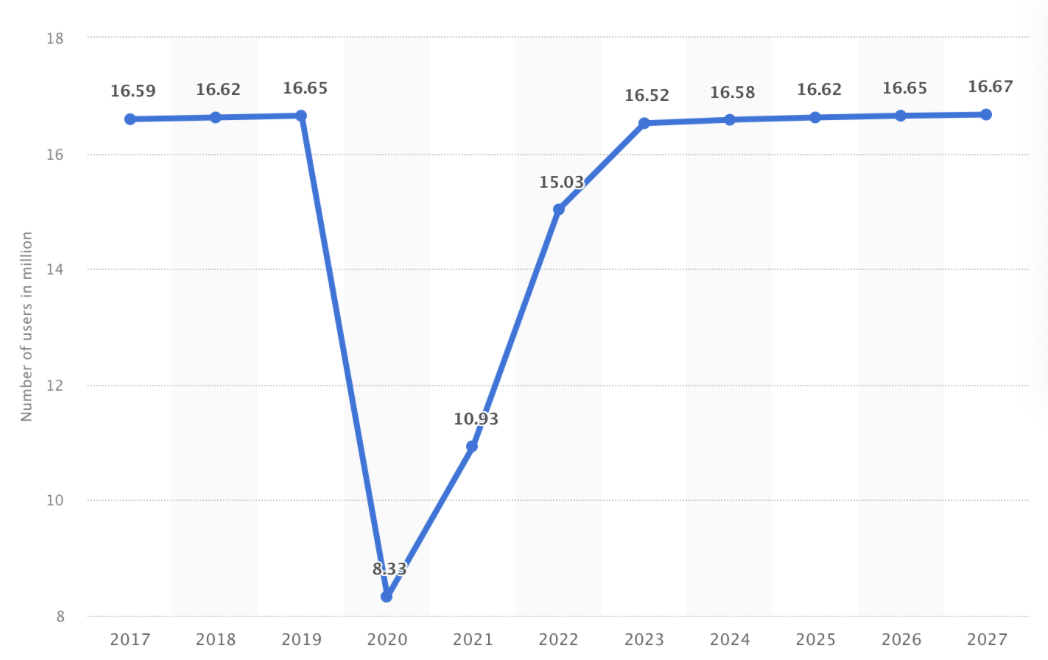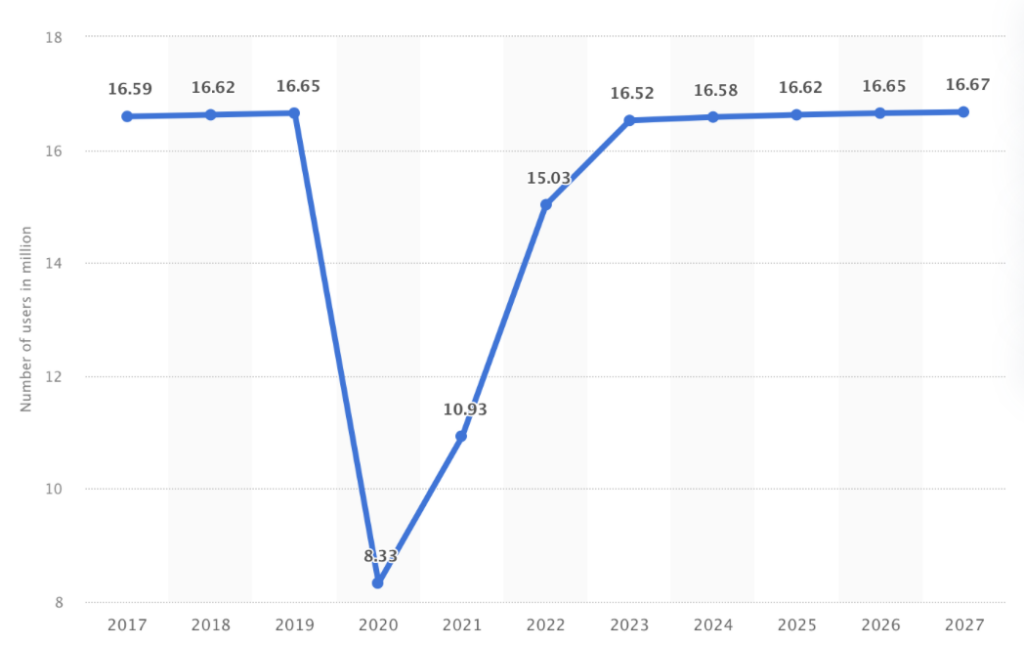 IDC
However, the pandemic also inevitably had a strong impact and led to a temporary decline. But despite this, there is still a great demand for short-term rentals in the UK. London remains one of the most popular destinations, due to the wide variety of options and different types of properties on offer. It is followed by Bristol, where there has also been a recent increase in demand for vacation rentals, particularly in neighborhoods such as Clifton and Harbourside. This is in response to the growing cultural and tourist offer of this city, which makes it an attractive option for guests and tourists. Vacation rentals offer an opportunity to experience local life and culture, which has been attractive to tourists seeking an authentic experience.
Rental supply
The current supply of short-term vacation rentals in the United Kingdom is very diverse and has experienced significant growth in recent years. This is because the growing popularity of vacation rental platforms has allowed owners to easily offer their properties for rent to travelers and tourists, simplifying the booking and payment process, which has attracted a large number of guests who prefer the convenience and flexibility of renting a property rather than staying in a hotel. Travelers are looking for authentic and unique experiences rather than generic hotel accommodations, and many owners see the short-term vacation rental market as an avenue to monetize their assets and generate additional income.
The UK offers a great diversity of vacation rentals and accommodation types available, from buildings and apartments in the city to vacation homes on the beach and cabins in the forest.
In addition, apart from short-term rentals in London, short-term rentals in Bristol or short-term rentals in Liverpool, there are many more options in rural and coastal areas, that have grown in popularity over the last few years, such as the south coast of England with cities like Brighton, Bournemouth and Eastbourne, or rural cottages in Dorset and Devon; as well as the Cornish peninsula, the Lake District, the Isle of Skye in Scotland, or the Cotswolds in England, among other places.
In this scenario, the main players in the market are online platforms such as Airbnb, Booking.com and Vrbo, which offer a wide range of accommodation options throughout the country. These platforms provide a simple and accessible way for owners to advertise their properties and connect with travelers interested in renting them.
4 tips to improve the management of vacation rentals in the United Kingdom
Managing vacation rentals is a complex task, especially if you want to enter a market as saturated as that of the United Kingdom. It is a challenge for owners and managers, but with the right tools and strategies to guarantee the success of their management.
We want to share 4 useful tips to help hosts to better manage their vacation rentals in the UK and ensure that their guests have an unforgettable experience and repeat their stay.
Partner with a vacation rental agency
For property owners looking for a more efficient way to manage their vacation rentals in the UK, working with a specialized agency can be a great choice. Owners can save time and increase revenue by utilizing the services these companies can provide, such as listing distribution and promotion, reservations, cleaning and maintenance, check-ins, etc.
Agencies have the resources to reach a wider audience and manage more efficiently, which could translate into increased bookings and more satisfied guests. However, it is essential to do your research to find a reputable agency that fits your needs
People prefer private rental housing
The preference for private housing in the UK vacation rental market has arisen due to the growing demand from tourists looking for a more personalized and homely experience, and has subsequently increased with covid. Rather than staying in impersonal hotels and more traditional tourist accommodations, many travelers prefer to have their own private, secure space with the freedom to cook, groom and live as if they were in their own home.
This popularity of private homes has led to an increase in the supply of vacation rental properties, so owners can take advantage of this trend by offering customized properties that meet the needs and desires of travelers.
Pay attention to vacation villa rentals
Villas can be an attractive option for vacationers seeking a more exclusive and private lodging experience. This type of housing has seen a boom in recent years since the pandemic of covid 19, as guests seek more private stays, spacious locations and sometimes even away from urban centers. Also noteworthy is the increase in demand for vacation villa rentals with swimming pools and comfortable outdoor spaces.
Villas tend to have a higher profitability compared to other types of vacation rental properties. However, they also have higher expenses. It is important to check the costs well, and make sure you keep the villa in good condition and offer high quality services to ensure guest satisfaction and successful property management.
Offer some additional advantages
A good way to improve the management of vacation rentals in the UK is to offer some additional perks. You can try offering amenities such as free Wi-Fi, Netflix, towels and toiletries, welcome food and drink or organize tours and other local experiences for visitors. Owners can improve their guests' stay significantly and encourage their loyalty by offering these facilities, which could translate into more bookings and higher revenue.
How can Hostify help your UK rental business?
Hostify can help vacation rental owners and managers in the UK simplify and improve the management of their properties, saving time and increasing profitability. This advanced management platform offers a wide range of tools to simplify and improve your property management. Owners and managers can use Hostify to efficiently manage reservations, pricing, payments, as well as automate repetitive tasks such as guest communication and housekeeping. In addition, Hostify offers analytics and revenue tracking tools to help owners maximize revenue and improve the profitability of their properties.
So what are you waiting for? Book your free demo now to see the system in action and discover how to boost the profitability and level up your rental business.