In today's dynamic and fast-paced rental industry, managing properties efficiently is crucial to stay ahead of the competition. Traditional manual methods can be time-consuming, prone to errors, and limit your ability to scale your business. That's where Hostify PMS steps in, offering you a comprehensive suite of tools and features designed to simplify property management and boost your success on the go.
If you are a property manager who is constantly juggling multiple tasks, then managing a portfolio of properties can be a challenging experience. Fortunately, Hostify's property management app is here to provide you with a comprehensive solution to help you facilitate your workload. In this article, we will show you how to make the most of our property software, so you can streamline your processes and increase your productivity. Let's dive in and explore the world of Hostify.
Hostify's property management mobile app for landlords
Hostify's property management app can undoubtedly revolutionize the way landlords go about managing their properties. With the app's innovative and user-friendly interface, property managers can efficiently manage their portfolios, reservations, check the multi-calendar, and quickly respond to guest requests. The app allows landlords to receive notifications every time a new booking comes in or a guest message, check guest details, and monitor reservations all in one place.
Overall, Hostify's property management app for landlords offers a streamlined and efficient way to handle all aspects of property management, saving them valuable time and money in the process. With our innovative software, we make managing your properties effortless, freeing up your time to focus on other pressing matters.
What are the best features of Hostify
Hostify's app for rental property management offers a comprehensive solution to the challenges that landlords and property managers face in managing their rentals. With a wide range of features designed to streamline processes and increase efficiency, Hostify stands out as a leader in the property management software market. That's why in this article we want to show you the best features of Hostify's software, such as smart automations or detailed advanced reporting. With a focus on providing a user-friendly interface and reliable customer service, Hostify has become the go-to choice for landlords and property managers seeking to optimize their rental operations. Keep reading and discover what sets it apart from the competition.
Smooth communication with Hostify Unified Inbox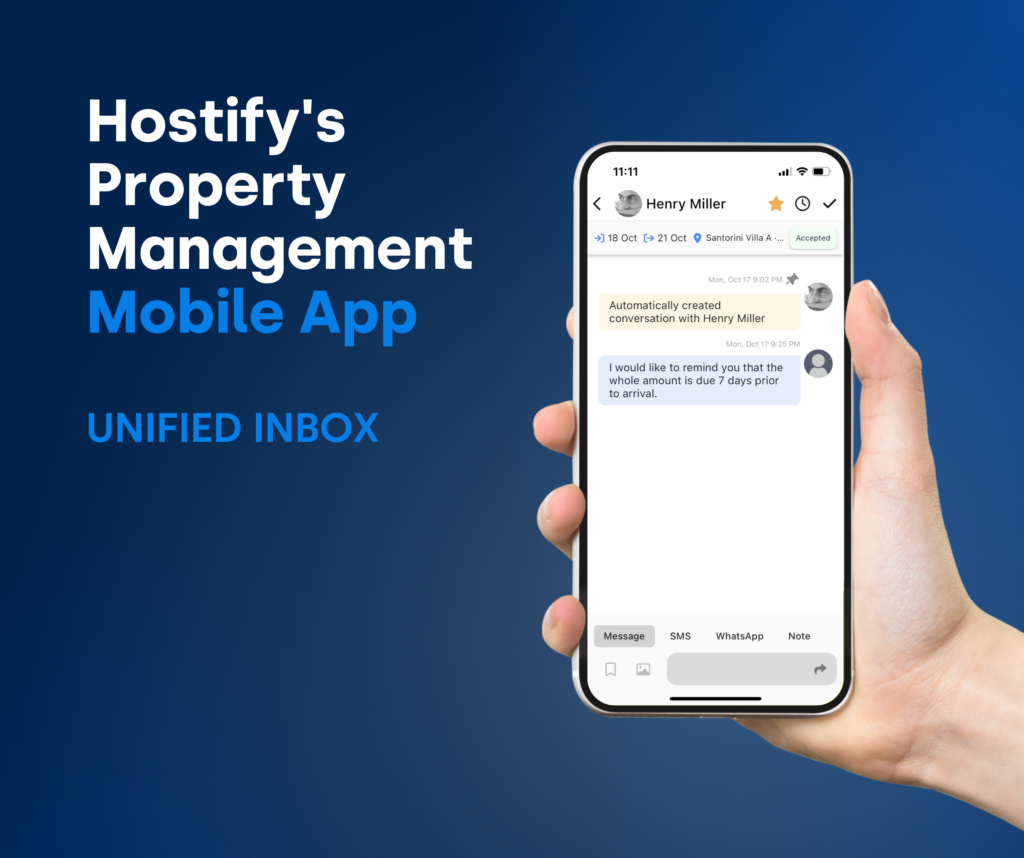 The mobile app streamlines communication between landlords and guests, with built-in messaging features enabling them to receive any message no matter where they can from: Airbnb, Booking, Vrbo, ExpediaPlum Guide, and more.
By collecting every message and request in a single integrated inbox, hosts can respond to any inquiry or message, effortlessly through the channel, SMS, Whatsapp or email. The app offers comprehensiveness in organizing multiple conversations, making it easier to respond to clients agilely and prevent any miscommunication by having a complete view of all messages in one place. This feature consequently streamlines the communication process, resulting in heightened guest satisfaction and overall smooth experience for both the guests and hosts.
Easy-to-see calendar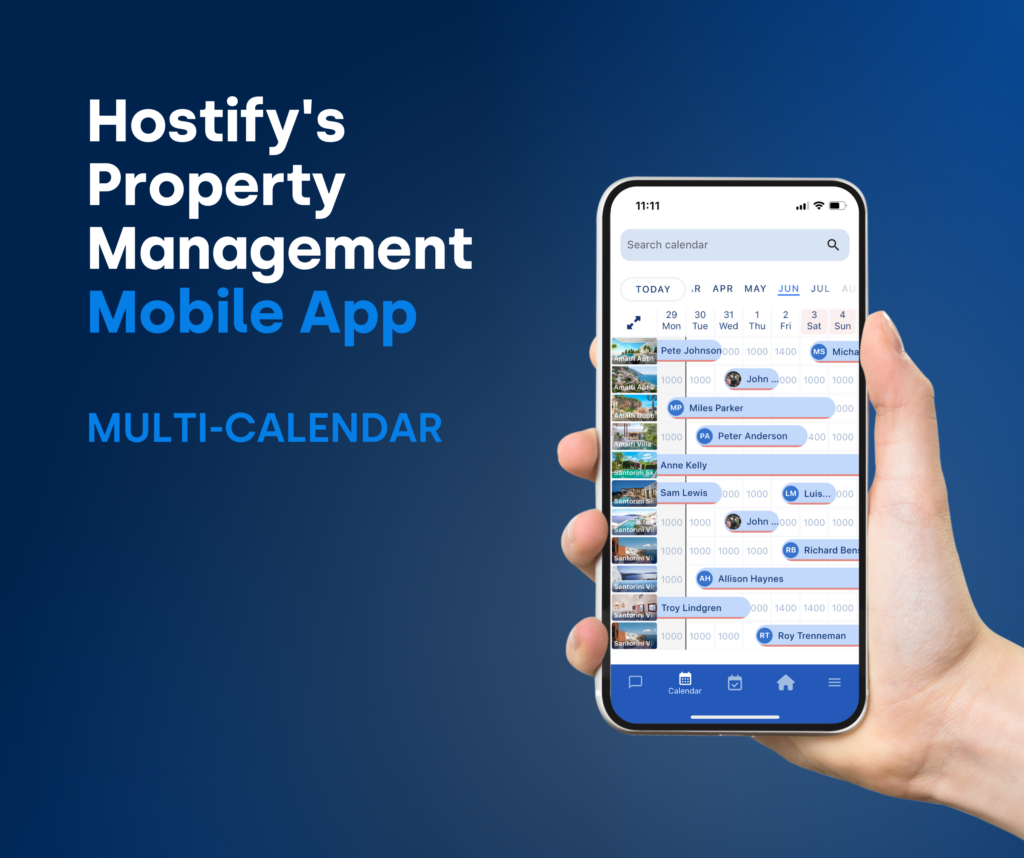 Among the wide variety of features offered by Hostify, the Multi-Calendar stands out as one of the best tools for property managers. With this innovative feature, managing multiple properties becomes a breeze. The Multi-Calendar provides a centralized view of all your properties, allowing you to effortlessly monitor bookings, availability, and reservations across various platforms in a single, intuitive interface. No more toggling between different calendars or risking double-bookings. Hostify's Multi-Calendar streamlines your operations, saves valuable time, and ensures seamless coordination of all your properties. Stay organized, avoid scheduling conflicts, and elevate your property management efficiency with the powerful Multi-Calendar feature from Hostify.
Manage reservations and check listings information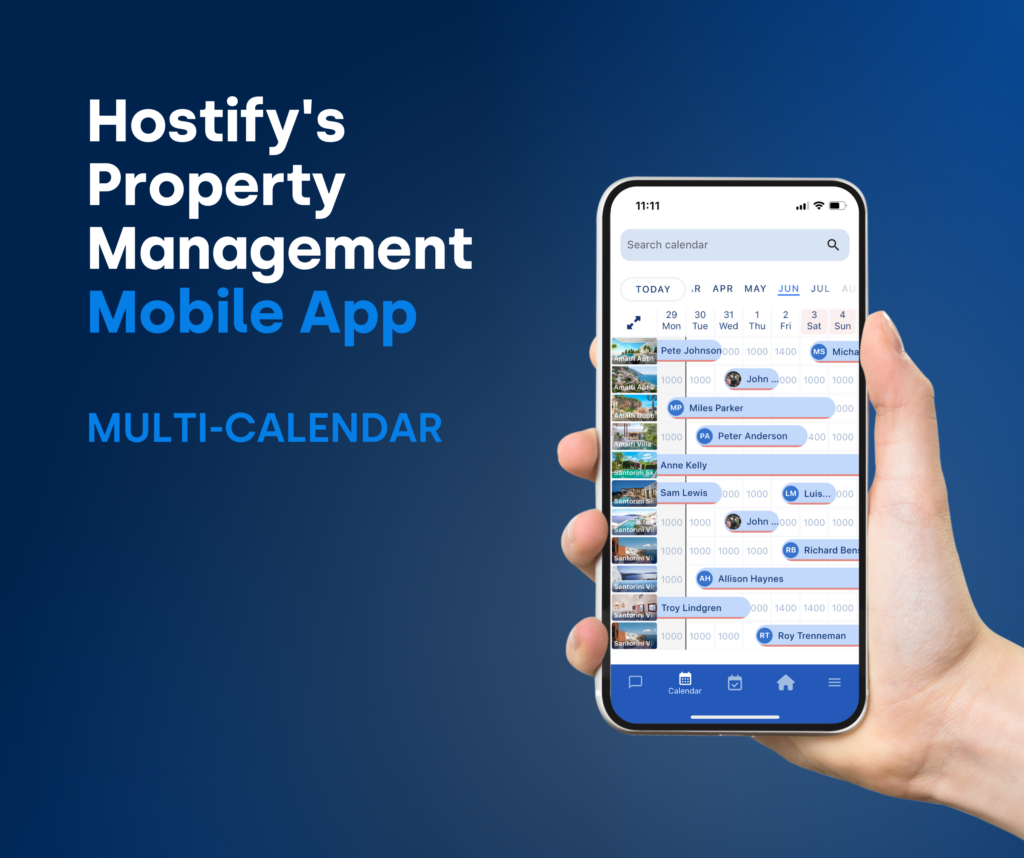 Hostify's property management mobile app is a game-changer for landlords and property managers, offering the convenience of managing properties on the go, anytime and anywhere.
With this app, users have quick access to essential information such as amenities, descriptions, and channels, guest details, track past and future bookings, monitor booking statuses, accept customer inquiries, and more. The app also provides a comprehensive overview of all properties, enabling property managers and owners to make informed decisions and effectively manage their businesses at any time.
Push notifications alerts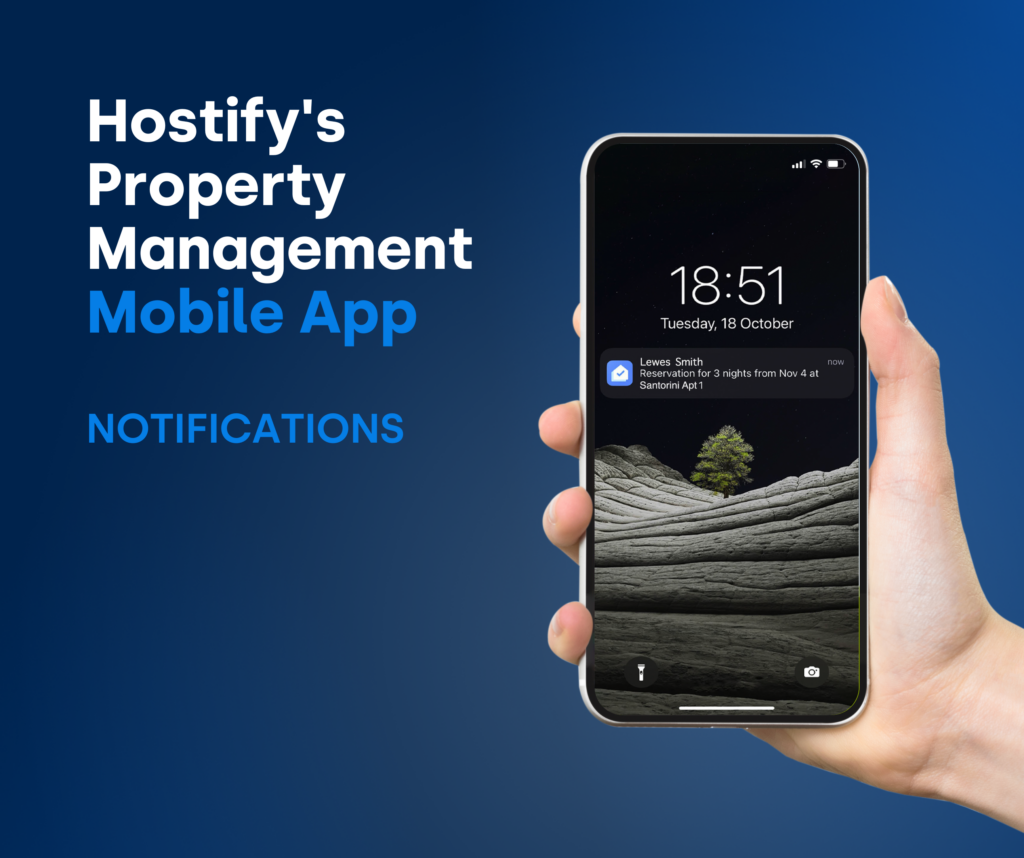 Hostify's app is designed to provide seamless communication and engagement between hosts and their guests, including through push notifications. These notifications facilitate timely and relevant information sharing, allowing hosts to stay on top of their business at any time: receive updates for new reservations, check-in details, last-minute cancellation and any other relevant information. This feature boosts guest engagement and satisfaction, resulting in a more enjoyable experience and building stronger relationships between hosts and their guests.
Hostify – best app for property management
All in all, nowadays Hostify stands as one of the best app for property management available in the industry. With its comprehensive suite of features, Hostify revolutionizes the way property managers handle their properties improving landlord management. It streamlines operations, enhances efficiency, and maximizes rental income. Hostify empowers property managers to stay ahead of the competition and provide exceptional guest experiences. With our advanced app, property managers can unlock the true potential of their properties and achieve great success in the ever-evolving rental industry. 
Hostify's app is continuously updated with the main objective of guaranteeing the best and latest services and tools to property managers, and to ensure that their experience is the best and contributes to boosting their business. Choose Hostify, the best app for property management and take your management endeavors to new heights. Remember that if you want to take your business to the next level, our browser version has a lot more features to offer you. Book your free demo now and discover its full potential!