Airbnb has emerged as a leading choice for owners and property managers seeking to promote their properties, establishing itself as one of the most popular platforms in this domain. With its user-friendly interface, the platform offers hosts an intuitive system for efficiently managing various aspects of their properties, including bookings, pricing, and communication. Nonetheless, the task of overseeing multiple listings on diverse platforms can pose a significant challenge for hosts. This is where the use of channel managers is key. By employing a channel manager airbnb, hosts gain the ability to conveniently manage their listings across various platforms from a single, centralized location.
In this article we provide a comprehensive guide on how to connect airbnb to channel manager, streamlining the management of your rental properties.
What is a channel manager
Channel managers stand as innovative tools that have revolutionized the way hosts manage their listings on different platforms. With the rise of Airbnb and other online rental platforms, the need for a centralized platform to manage bookings and availability has become more vital than ever. A channel manager provides exactly that, and acts as a bridge between multiple online booking channels and the host, making it easier to manage listings and bookings from one integrated platform. In essence, a channel manager is a game changer for busy hosts looking to streamline their operations, ensuring they can focus on providing top-notch services rather than spending hours managing multiple platforms. It's a tool that has proven invaluable to the growth and success of many established rental hosts, and something every host should consider incorporating into their operations.
Connecting Airbnb to a channel manager
Connecting your Airbnb account to a channel manager is one of the ultimate and more frequent topics in the vacation rental industry, and for a good reason. By doing so, hosts can seamlessly manage their listings and bookings across different platforms, enabling them to maximize their bookings and revenue.
Connecting Airbnb to a channel manager holds the key to unlocking a host's potential for increased efficiency and enhanced management capabilities. Gone are the days of struggling to keep track of bookings, availability, and communication across multiple platforms. By establishing this crucial link, hosts gain the ability to navigate their property portfolio from a single, unified interface. Hosts can now take control of their listings, optimize pricing strategies, synchronize availability, and effortlessly communicate with guests, all from one central system.
How to connect airbnb to channel manager Hostify?
If you are a busy Airbnb host looking to streamline your short-term rental operations, then you should consider integrating your Airbnb account with Hostify. Hostify's channel manager is recognized by Airbnb as a Preferred Partner, an advanced system designed to help hosts manage their listings efficiently from one central location.
In this article, we will guide you through the process of connecting your Airbnb account with Hostify, providing a step-by-step guide so you too can enjoy the benefits of an innovative airbnb channel manager
Step 1
To establish a Real Time sync connection with the desired account simply click on the Connect button located on the Airbnb page in your Hostify account. By doing so, a pop-up window will appear, presenting you with the option to connect by clicking the "Connect with Airbnb" button.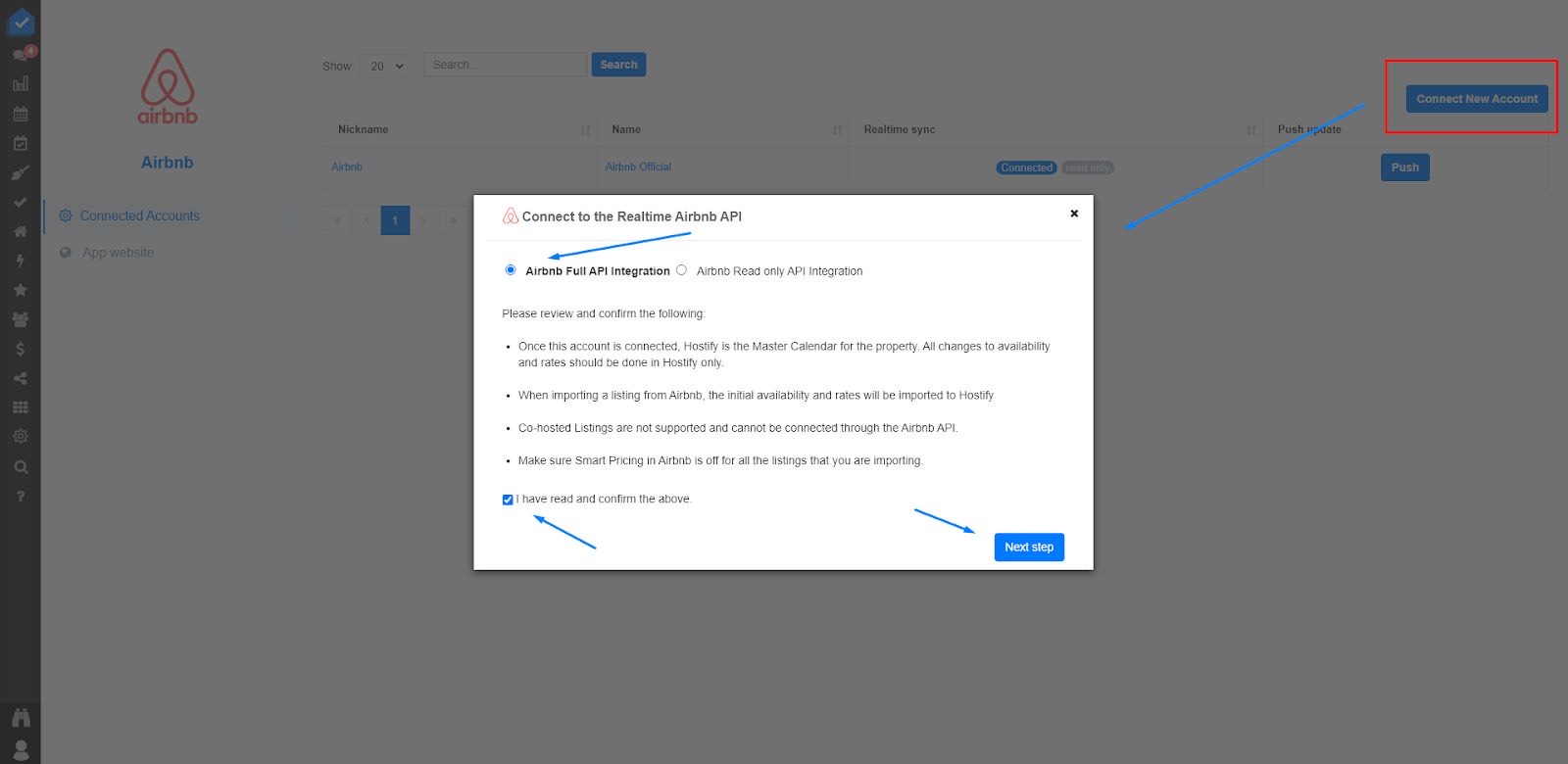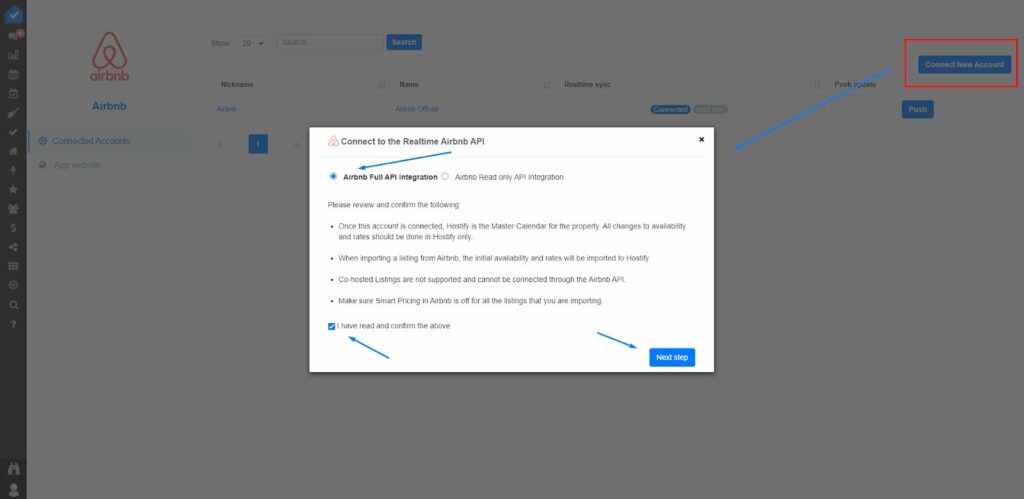 Step 2
To connect with Airbnb, simply click on the "Connect with Airbnb" button. This will redirect you to Airbnb's website where you will be prompted to accept the connection with Hostify.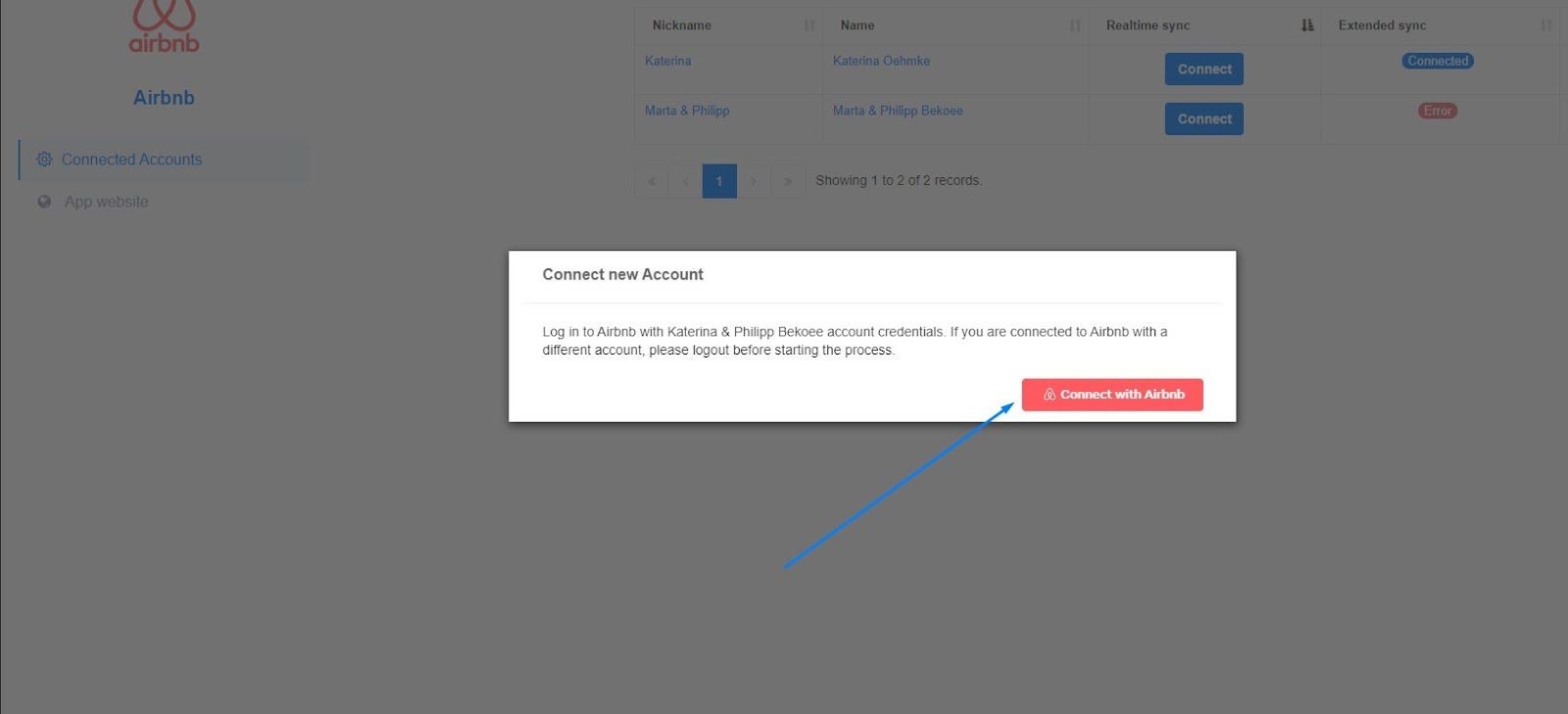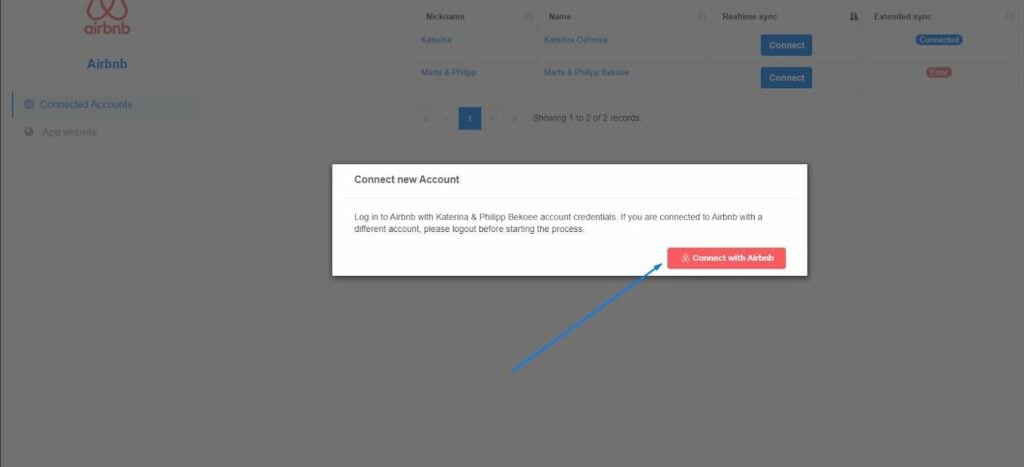 Step 3
Before proceeding, make sure to thoroughly read and accept Airbnb's Additional Terms of Service. Once you've familiarized yourself with the terms, simply click the "Allow" button to continue.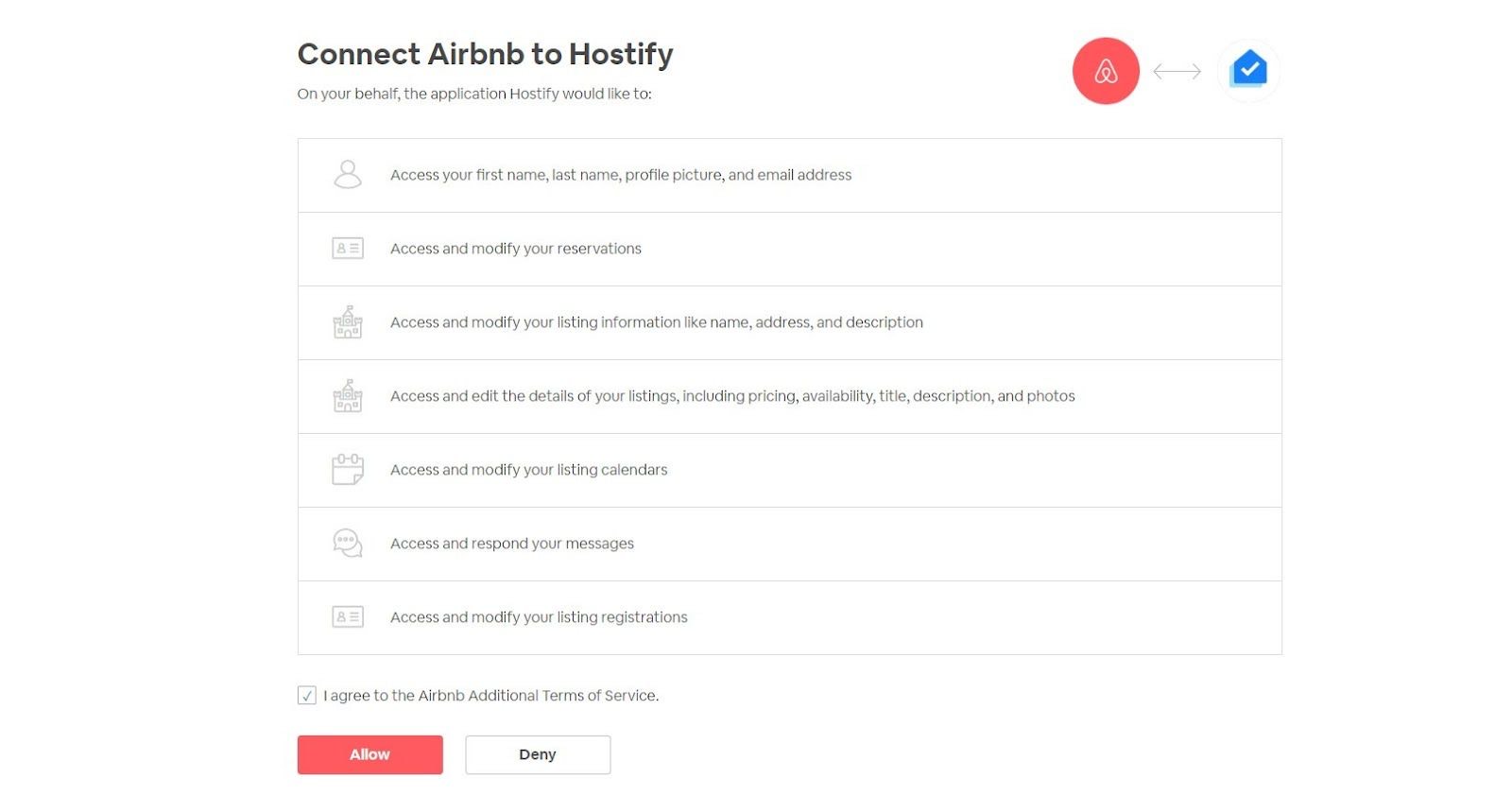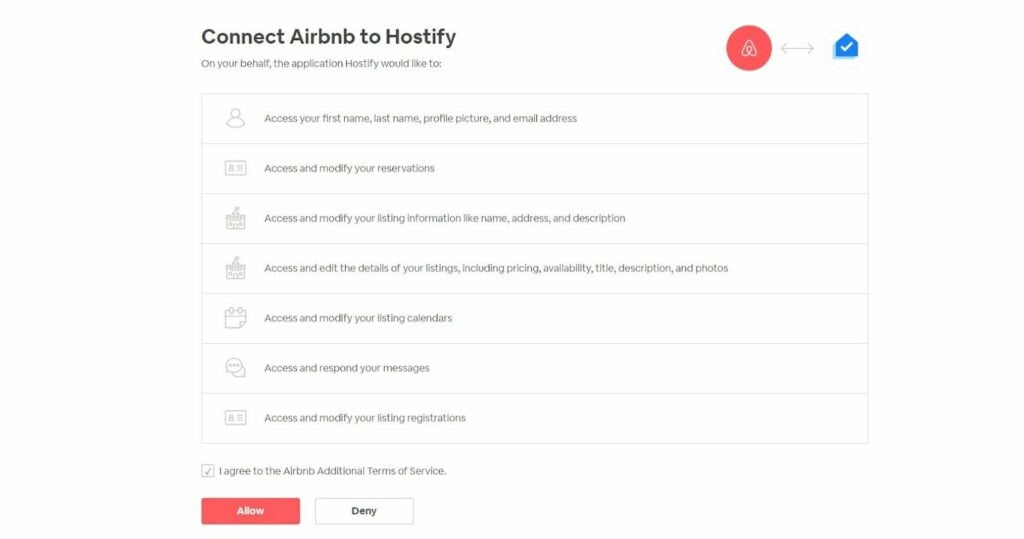 Step 4
To proceed, click on the "Return to Hostify" button provided from Airbnb. This will direct you back to Hostify's platform.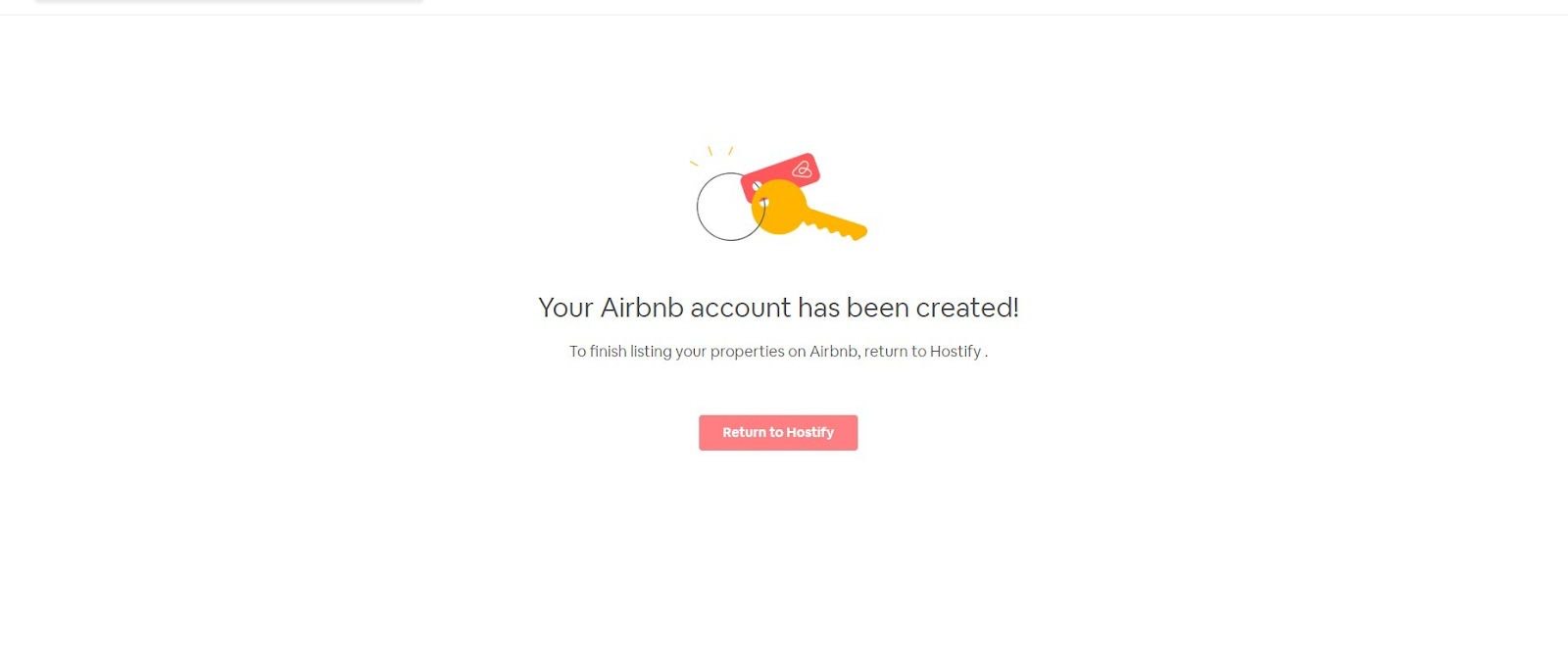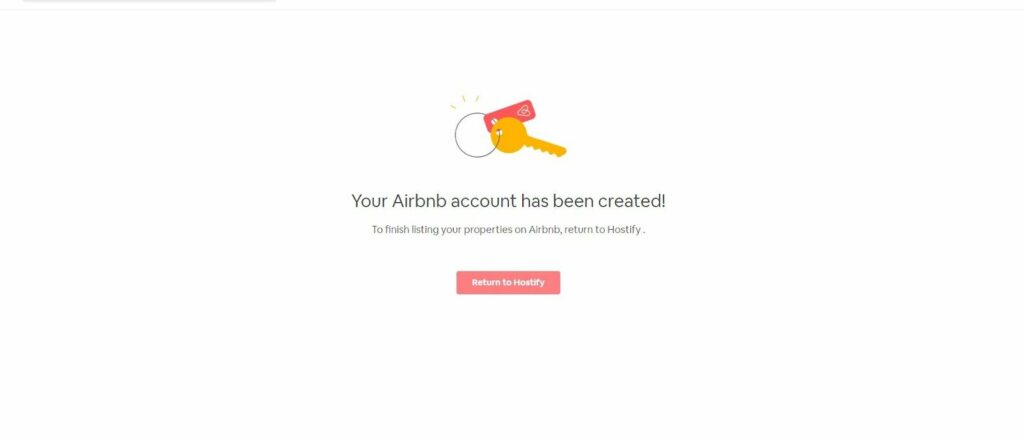 Step 5
To complete your account setup, the system will prompt you to enter an internal nickname to identify your account. If you already have a nickname in mind, you can simply enter it and save it.
Step 6
Once you've successfully connected your Airbnb account to Hostify, the platform will automatically begin updating your Airbnb listings. Please note, however, that it may take up to 18 hours for a new integration to fully sync with Hostify.
How can Hostify's vacation rental channel manager help you manage your Airbnb?
Hostify's is an Airbnb preferred partner plus!
With its easy-to-use and efficient software, Hostify allows hosts to manage all their Airbnb listings from a single platform. This eliminates the need for manual updates on multiple channels and accounts, saving hosts time and effort.
Additionally, Hostify ensures that hosts' properties are available to potential guests at all times by automatically syncing calendars across Airbnb and all other booking platforms. This eliminates the risk of double bookings and ensures that hosts can maximize their occupancy rates without any hassle.
Hostify's advanced features make it the must-have tool for vacation rental property managers looking to streamline their operations. With Hostify, hosts can focus on providing their guests with an exceptional experience while Hostify takes care of all the backend tasks.
Don't wait any longer and see it by yourself: book your free demo now!