Whether your property is just starting to make a name for itself or has been accepting guests for years, bad reviews can lead to a drop in your vacation rental listings.
5-star reviews help property management business to earn more bookings, get more trust from guests, and give you a higher earning potential. We analyzed over 26,270 public guest reviews from Airbnb hosts. We segmented the data by looking at reviews that had a negative sentiment. Here's what we found: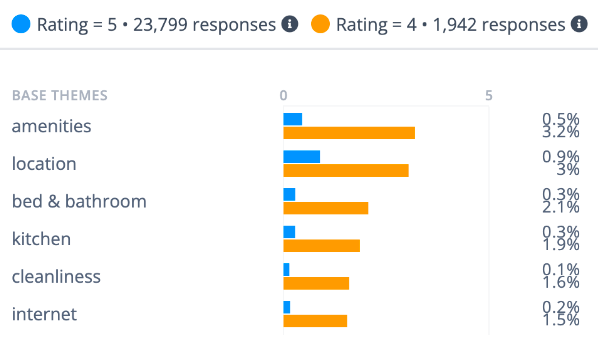 In the first chart, you can see the difference in frequency that different themes were mentioned in 5-star vs 4-star reviews. For example, 4-star reviews were 6x more likely to mention themes related to amenities. 3x more likely to mention themes related to the listing's location. And 7x more likely to mention themes related to bedrooms and bathrooms.
What stands out most is that 5-star reviews almost never mention issues with cleanliness or issues with the internet. This shows that these are important issues to guests.
Let's dig in a bit deeper to specific themes:
Amenities

Rental hosts love providing great amenities for guests and these also tend to help a listing stand apart. However, guests who are promised a hot tub only to find it broken are not going to be pleased.
If your amenities need repair, make sure you block off your calendar until it's fixed or simply remove the amenity from your listing completely. Also, notify existing reservations that broken amenities will not be available and give them an option to cancel for a 5-star guest experience.
Depending on location and time of the year, heating and AC can be crucial amenities for rental properties. It's always best to be clear before a guest arrives about what will and will not be offered.
Location

Almost all of the negative reviews left because of an issue with location, were due to parking being unavailable or insufficient. While adding parking isn't always feasible, it's important to communicate alternative solutions to the guests. So they don't arrive with more vehicles than there is room for.
Bed & Bathroom

When guests mention having a negative experience with the bedroom or bathroom, they are most likely to mention toilet paper, towels and bedding.
At worst, these products should be "forgettable" – not bad, not great but inconsequential to the guests' stay. At best, they should be high quality and inspire guests to ask you about where you got them after their stay. Offering guests a higher quality product will always help boost your overall host rating.
Key takeaways for 5 star reviews
Showplace Wholesale offers high-quality paper products, sheets, and towels that 5-star hosts trust. You can order them here.
To sum it all up, here are the key takeaways for how to be proactive so that you land that 5-star rating:
◆ If parking is a challenge, convey that before the guest's stay. You can also include information about a local taxi company, public transportation, or the location of a nearby parking lot that you trust.
◆ If it's broken, take it out of the house. Appliances that are broken should be replaced or removed. Guests who come in contact with broken appliances are much more likely to become frustrated.
◆ If there are noise issues, provide earplugs and/or a white noise machine.
Remember that the vacation rental game is a marathon, and your reviews are like checkpoints along the way. Use them wisely and don't get dragged down by the occasional bad review. When that negative review rolls in, it's time to spring into action. If guests are providing similar feedback to each other, make sure to incorporate those changes in your properties. This will encourage future renters or even returning guests!
Written by the Showplacehq team